Lead (Pb) is a dull, silver-grey metal known and used by humans for centuries. Presently, it is extensively used in automotive & inverter batteries, sealed lead acid batteries in Solar units, pigments,ammunition, cable sheathing, weights for lifting, weight belts for diving, lead crystal glass, radiation protection and in some solders
Lead, unlike other metals, is recycled heavily all through the world. Recycled lead comprises major part of the supply of metal for all its different uses. And we at Eros, provide World Class Systems to enable our clients to recycle Lead and extract value, apart from saving environment!
We provide the complete range of machinery to set up a Lead Recycling Unit, and more. Our range of machinery can be divided into following categories and includes:
Constituent Segregation:
Battery Breaking & Separation Units
Battery Cutting Machines, with or without Terminal Removers, Lock Cutters, Box Crushers, Acid Drainers
Smelting:
Rotary Furnace with Complete Air Pollution Control Systems including Fugitive Emissions Control Systems
Coal Fired Mini Furnaces with Complete Air Pollution Control Systems
Refining:
Remelting / Refining / Alloying Kettles with or without Fugitive Emissions Control Systems
Ingot Casting Machines
Accessories & Other Products:
Effluent Treatment Plants
Jumbo Ingot Moulds
Ball Mills with Collection Systems and Ball Making Machines
Air Pollution Control System For Battery Manufacturing Units
We provide services and machinery for setting up complete Lead Recycling & Smelting Units, as per the requirement of clients for specific production capacities in mind. We not only guide the clients in selection of suitable technologies as well as capacity of individual machines/ equipment, but also the layout of their units and every minute details so that the client does not have to settle for anything but the best.
Battery Cutting Machine & Accessories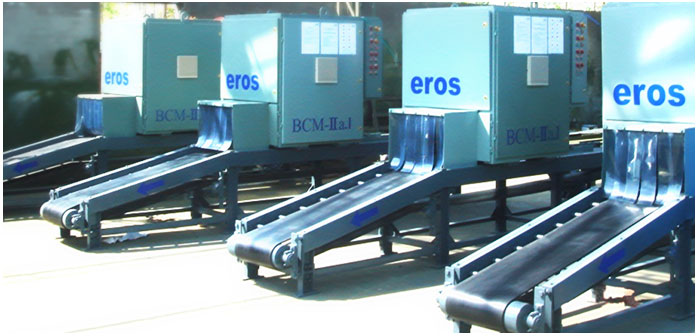 Scrap Battery needs to be opened up and all the components segregated before the lead bearing scrap is to be charged in the Furnace for Lead Smelting. Opening up of Battery is a time consuming and tedious process and also worker intensive. Hence, we at Eros, have worked out simple mechanical solutions to do some of the jobs involved in this process in a faster and safer way.
First and foremost among them is a Battery Cutting Machine, also called by its short name "BCM" in the trade.
A Battery Cutting Machine can be considered as a simple tool to cut open up the Battery Boxes. It is a semi-automatic electro-mechanical device which uses high speed multi-metal circular blades to cut the boxes in two portions such that the lids with upper terminals and connectors is shaved off from rest of the contents.
Battery Cutting Machines (BCM) are available in different models depending upon the average median size of batteries and load of operations. Machines provided by us are sturdy with solid framework for handling stress of continuous rough handling and are optimally balanced to ensure minimum maintenance and maximum life of consumables. They can be provided in complete SS configurations and with higher motor powers depending upon the requirements.
A BCM has functions of cutting the battery as well as has arrangements of centering the battery fed and also adjusting the height of the cutter blades. The batteries are manually loaded on the rubber conveyor to minimize the human involvement in the cutting operation. However, these machines are essentially batch type machines where batteries of different sizes are to be stacked up in batches and one batch of similar sized batteries are cut at one time.

Once the battery has been cut open, it will need supplementary operations for removal of terminals and/ or connector locks and crushing of empty boxes and washing of crushed Plastic chips. These operations can be done manually as generally prevalent, or with the use of add-on machine modules supplied by us, viz. Terminal Removers, Lock Removers, Box Breakers, Washing Machines, Trommel Conveyors etc.
Terminal and Lock removers are simple tool arrangements to separate terminals from the lid or to break free any locks not cut by BCM in the box.
Box Breakers are rotating hammer type crushers which crush then plastic box to make plastic chips which are easily washable and transportable in sacks.
Washing machines are rotating drum in a holding drum type arrangement which can be used to clean the chips of any lead residue or can also be used to wash PVC separators with minimum use of water.
Also available are Trommel conveyors/ rotary screens for separation of lead bearing scrap from the cut Battery after BCM in a mechanized manner without human involvement.
Most of the machines in this line up can be customized to suit the capacity required and also as per the material of construction desired.